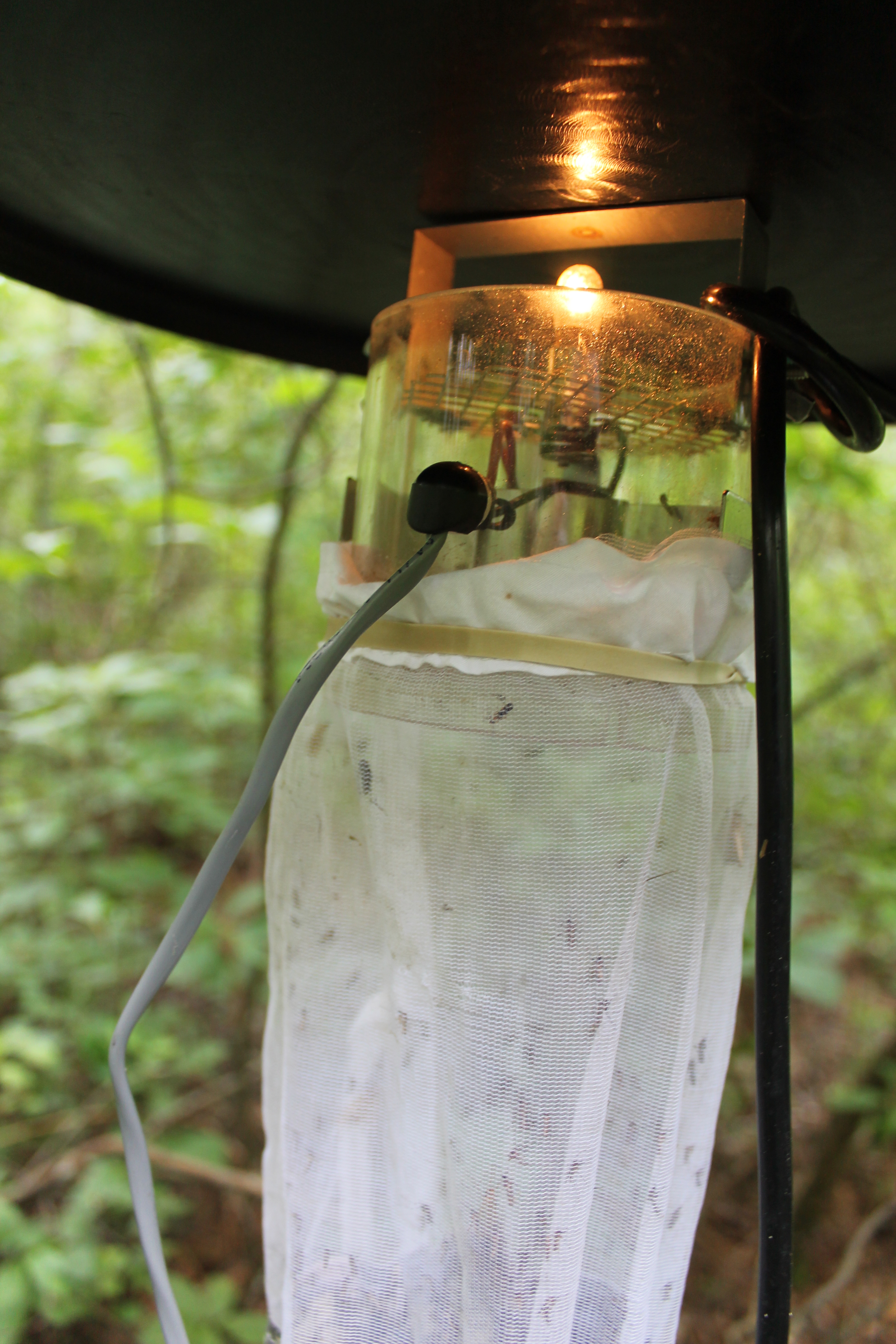 Mosquito borne diseases and other vector borne diseases have long plagued humanity. Unfortunately, modern times are no different. Globally vector borne diseases infect 96 million people and kill 700,000 people annually. Most of these deaths are from malaria.

The disease landscape is continually changing. Human impacts such as climate change, travel and commerce have allowed both mosquitoes and diseases to expand their ranges. In 1999 West Nile Virus was introduced into New York City. It quickly spread throughout the United States including Massachusetts. Recently, the disease landscape changed again when Zika and Chikungunya were imported into the Americas. Neither of these diseases are currently in Massachusetts.

Massachusetts' main mosquito borne diseases are Eastern Equine Encephalitis and West Nile. The Department of Public Health is the lead state agency for disease surveillance and control. Mosquito control agencies work closely with DPH and participate in the surveillance program and in the control of disease outbreaks.

Introduction

Eastern Equine Encephalitis (EEE) is a rare form of viral encephalitis that is transmitted by mosquitoes. (The word encephalitis is a medical term for swelling of the brain). EEEV is found along the Atlantic and Gulf coasts of the U.S. as well as Michigan, Ohio and upstate New York. Historically, the states with the most human cases are Florida, Georgia, Massachusetts and New Jersey. On average there are 10 human cases of EEE in the U.S. each year. The CDC reports that about 35% of the people who contract the disease will die and of the survivors 35% will have long term neurological deficits. People at greatest risk for developing EEE are people under the age of 15 or over the age of 50.
While EEEV has undoubtedly been in Massachusetts for a long time, the virus was first recognized in 1938. Between 1938 and 2020 there have been 110 human cases in Massachusetts. The majority of human cases in Massachusetts have occurred in Bristol, Norfolk and Plymouth counties. This is probably because there is a concentration of larval habitat for the main mosquito in the EEEV cycle in southeastern Massachusetts.
Transmission Cycle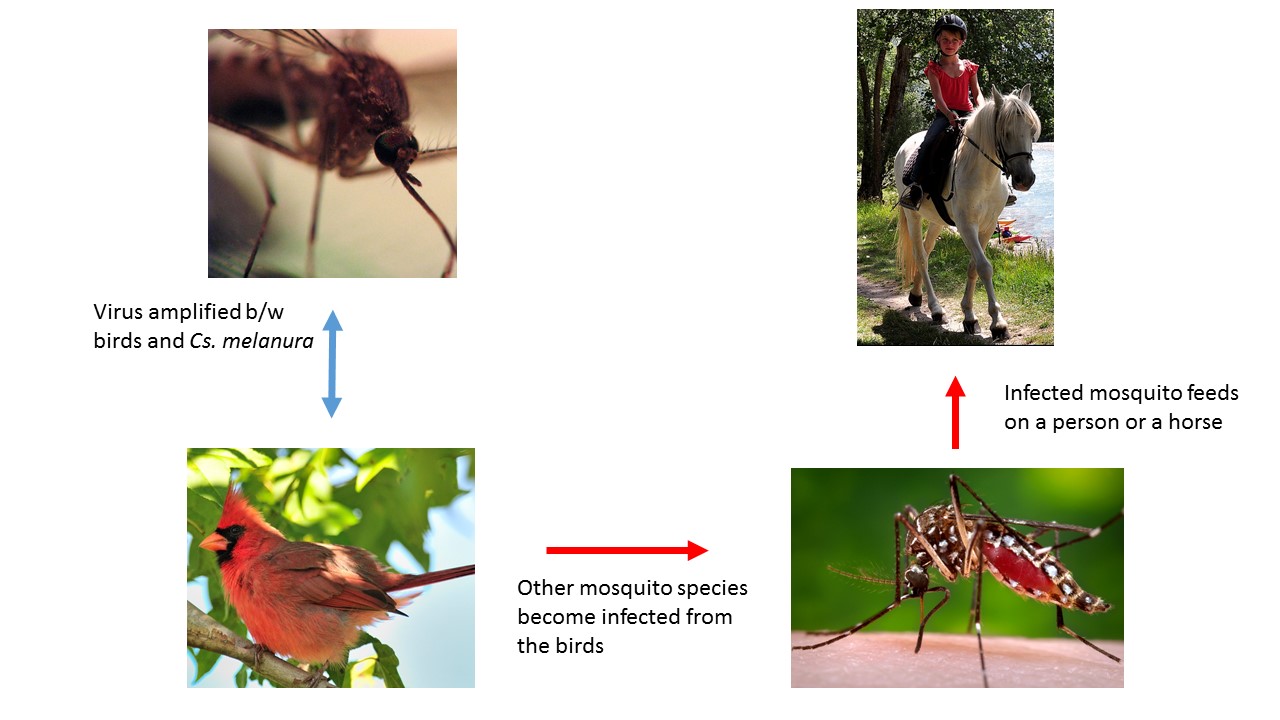 The transmission cycle of EEEV is complex, and involves several different mosquito species. The mosquito
Culiseta melanura
transmits EEEV to our wild birds. The birds in turn infect more mosquitoes. The virus may leave the
Culiseta melanura
-bird cycle through the infection of additional mosquito species. When these other mosquito species become involved mammals, including people, are in danger of infection. While the risk of infection is usually very low, human cases may occur from late July to October.
State Action

The Massachusetts Department of Public Health (DPH) has an Arbovirus Surveillance and Response Plan that is updated annually. The Plan is designed to assess the level of risk for towns and to recommend appropriate actions.
Every summer the Massachusetts Department of Public Health (DPH) sets out mosquito traps in areas that have historically had EEEV activity. Plymouth County Mosquito Control Project also sets traps that are designed to supplement the trapping that DPH has been doing. Mosquitoes are collected from these traps every week and tested for EEEV and WNV. When the virus is isolated from mosquitoes, DPH notifies mosquito control districts, local boards of health and issues a press release to the public.

Protecting Yourself and Your Family

Since there are no commercially available vaccination for people, the best way to protect yourself is to prevent mosquito bites. See our section on repellents and things you can do around your home.

EEEV and Horses
EEEV is a very serious disease for horses. Horse mortality ranges from 80-90% of the horses infected. Symptoms include unsteadiness, erratic behavior, loss of coordination and seizures. There is no cure for the disease and death usually occurs within 48-72 hours after onset of the first symptoms. The only way to prevent a horse from contracting EEEV is through a vaccination. Please check with your veterinarian for additional information on the vaccine.

Many people worry unnecessarily about the human health implications if a horse contracts EEE. Infected horses cannot pass the virus to humans through contact, body fluids or any other physical mechanism. Also, a sick horse cannot infect additional mosquitoes because it does not circulate sufficient amounts of virus in the blood. Transmission between horses is not possible.

Photo credits:

Mosquito by Cristiano Medeltro Dalbem, Creative Commons License

Cardinal by Bill Chitty (photo cropped) www.flickr.com/photos/41133154@N05/16196358520, Creative Commons License
Horse and rider by Stefan Schmitz (photo cropped), www.flickr.com/photos/stefanschmitz/6017526843/in/album-72157623946762843/, Creative Commons License,
Introduction
West Nile Virus was first identified in the West Nile district of Uganda in 1937. In 1999 the virus was introduced into New York City, from there it spread quickly across the continental U.S. Currently, WNV has a world wide range including most of North America, Europe, Africa, Asia and Australia.

In 2000 the virus was found for the first time in Massachusetts. From 2000-2019 there have been 193 identified human cases of West Nile state wide. Six of the human cases were in the district. There have been horses and other livestock have also been infected with WNV in Plymouth County. The number of infected horses has decreased significantly since the introduction of a vaccine for horses.
Transmission Cycle

WNV primarily circulates between birds and mosquitoes with mammalian infections being incidental. The virus is largely transmitted by Culex mosquitoes. In Massachusetts WNV is transmitted mainly by Cx. pipiens which obtain the virus from birds. These mosquitoes prefer to blood feed on birds. On occasion, Cx. pipiens blood feeds on mammals potentially transmitting the virus. As the summer progresses the amount of virus circulating increases thus increasing the likelihood of human infections. While rare, West Nile virus has been spread through blood transfusions, breastfeeding and organ transplants.
Human infections of WNV often occur in urban areas. Culex pipiens is closely associated with people because they lay eggs in containers and polluted water. Containers can include catch basins, tires, a bird baths, or children's toys.
In the U.S. over 325 different species of birds have died from WNV infections (includes captive non-native birds). The greatest mortality of birds has been with birds in the family Corvidae, which includes crows, blue jays and ravens. Now that WNV is well established in Massachusetts, DPH has ended the practice of testing dead birds.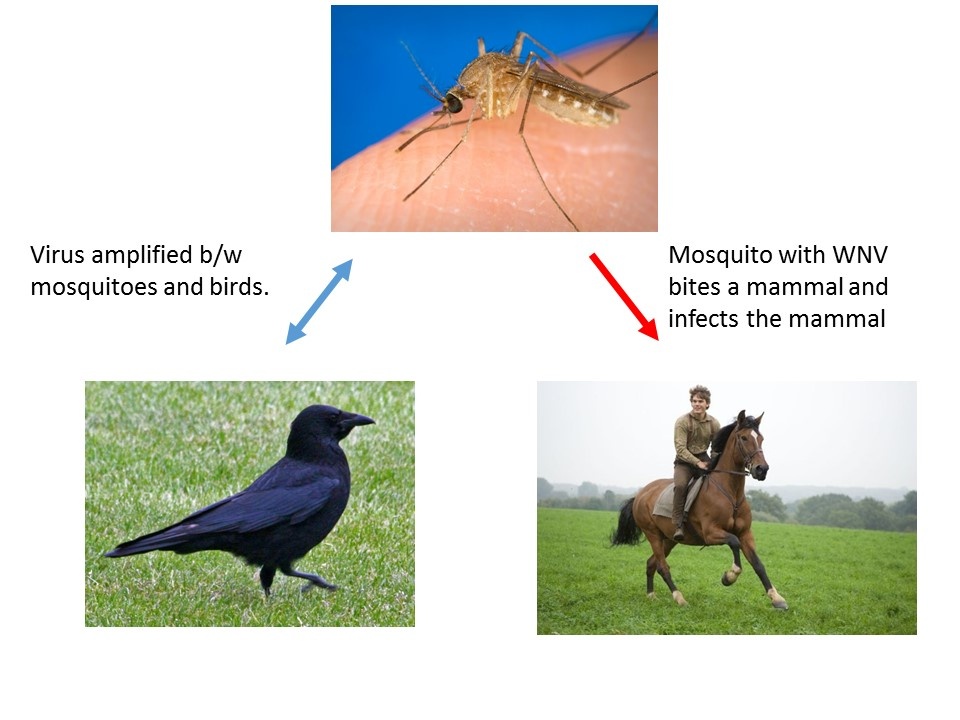 Human
Symptoms: Eight out of ten people infected with WNV will have no symptoms. However, those that do have indications can have a wide range of symptoms. The most common presentation of WN is called West Nile fever and symptoms are headaches, body aches, vomiting, diarrhea and rash. Recovery can take weeks and sometimes months. Some people may develop serious nervous system effects (1 in 150). They will have symptoms such as encephalitis, meningitis and poliomyelitis (polio like symptoms). About 10% of these people will die.

Treatment: Unfortunately, there is no human vaccine for West Nile virus. People should take steps to prevent mosquito bites. Some of these steps include wearing long sleeves and pants (when temperatures allow), using repellents and avoiding periods of high mosquito activity such as dawn and dusk. You can learn more on our Repellents page.

Horses
Horses and other mammals can get WNV but cannot infect other mammals or mosquitoes. Just like people they are incidental infections and tend to occur later in the season when there is more virus circulating in the mosquito population.

Many horses that get WNV probably never show symptoms. However, of those that show symptoms about 40% are either euthanized or die from the infection. WNV affects the nervous system of horses. Early symptoms of the disease are often indistinguishable from other equine encephalitides including rabies, equine herpesvirus-1, equine protozoal myeloencephalitis, and eastern, western, or Venezuelan equine encephalomyelitis. Some of the symptoms are listlessness, stumbling and poor coordination, weakness of limbs, partial paralysis, knuckling over, head tilt, muscle twitches or tremors, inability to stand, circling, weakness or paralysis of limbs, apparent blindness, lip droop, grinding teeth and death. An effective vaccine for horses is available and PCMCP recommends that all horse owners discuss vaccinating their horses with their veterinarian.
What We Are Doing
PCMCP takes a number of steps to control WNV. We work closely with Massachusetts DPH to monitor and control WNV. DPH has developed an Arbovirus Surveillance and Response Plan that is updated annually. The Plan is designed to assess the level of risk for towns and to recommend appropriate actions. As part of this plan PCMCP collects Cx. pipiens for virus testing, reduces the amount of habitat for the Cx. pipiens and educates people about mosquitoes.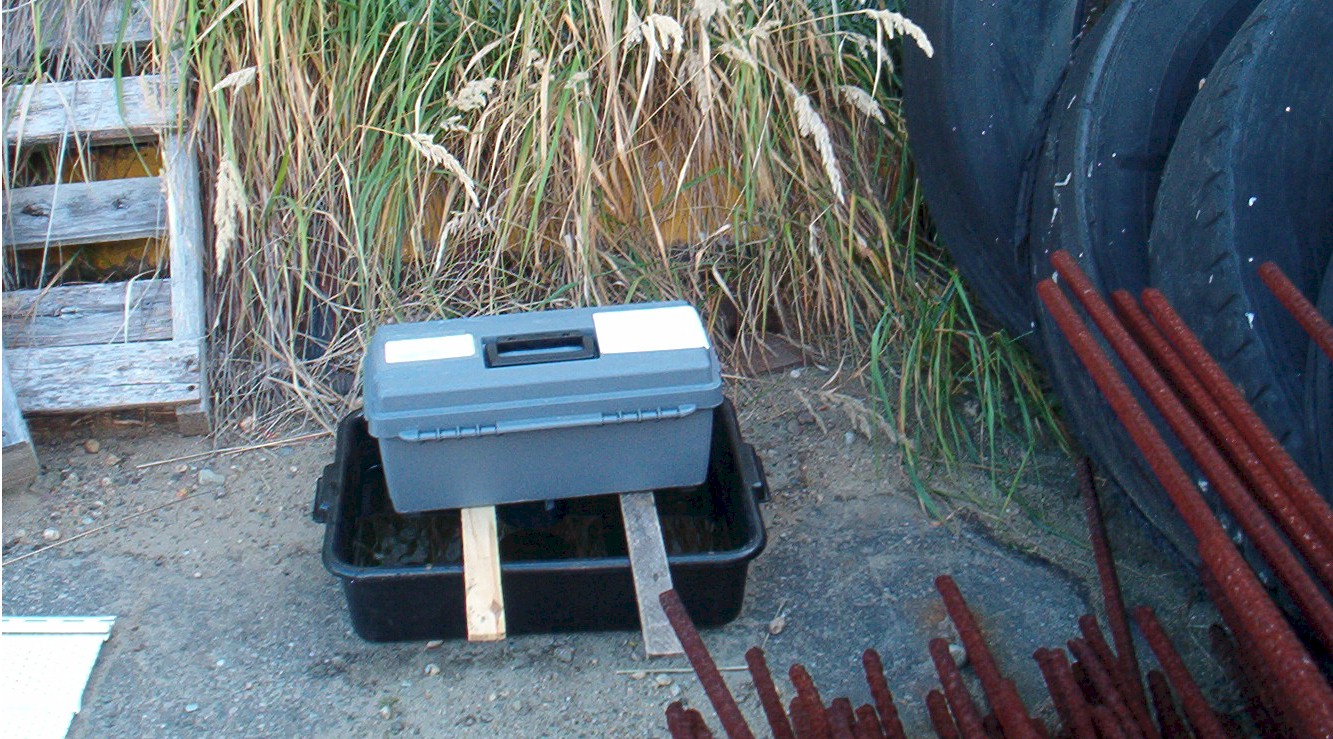 In the summer, the amount of WNV circulating in the mosquito population is monitored. This allows DPH to determine the risk for human infections in a given area. We run traps designed to collect gravid (pregnant) Cx. pipiens in areas that we feel have a risk for an epidemic or epizootic of WNV. The traps consist of a pan of water infused with organic material, which acts as an attractant, on top of the pan rests a fan that sucks up mosquitoes into a collection chamber. The mosquitoes are taken back to our office, identified and put into vials. The vials are then brought to Massachusetts DPH for testing.

Another important component of our control strategy is to reduce the amount of habitat available for
Cx. pipiens
. As a result we prevent mosquito production in catch basins by applying pesticides. We have also begun a program to collect old tires.
Finally, the public has an important role to play in the control of WNV and we work to educate the public about the issue. We visit schools and others to discuss WNV. If you are interested in having us come visit your organization or home, please give us a call at (781)585-5450.

Photo Credits: Culex mosquito By James Gathany, CDC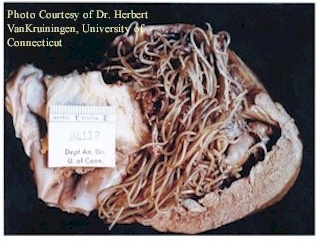 Overview
Dog heartworm (Dirofilaria immitis) is a parasitic filarial worm that can be life-threatening for canines. Mosquitoes play an essential part in the lifecycle of the worm. Dogs and sometimes other animals such as cats, foxes and raccoons are infected with the worm through the bite of a mosquito carrying the larvae of the worm. While cats are susceptible to the disease they do not appear to be good hosts. As a result cat infections are less common. Dirofilaria immitis is found throughout much of the United States including Massachusetts. Many mosquito species in Massachusetts can become infected with the worm.
Lifecycle
Dirofilaria immitis is dependent on both the canine and the mosquito to fulfill its lifecycle. In an infected dog the adult worms are 9-16 inches in length and live in the dog's heart and lungs. The young worms called microfilaria and circulate in the blood stream of the dog. These worms must infect a mosquito in order to complete their lifecycle. Mosquitoes become infected when they blood feed on a sick dog. Once inside the mosquito the microfilaria leave the gut of the mosquito and live in the body of the insect, where they develop for 2-3 weeks. When they are in their 3rd stage of development they move to the mosquito's mouthparts, where they will be able to infect an animal. When the mosquito blood feeds, the infective larvae are deposited on the surface of the skin. The larvae enter the skin through the wound caused by the mosquito bite. The worms burrow into the skin where they remain for 3-4 months. If the worms have infected an unsuitable host such as a human the worms usually die at this point. If the infective larvae are in a suitable host they will eventually enter the blood stream and locate the heart of the animal. Once they are in the heart they will reach the adult stage after about 5 months. In all the lifecycle of Dirofilaria immitis takes about 9 months to complete.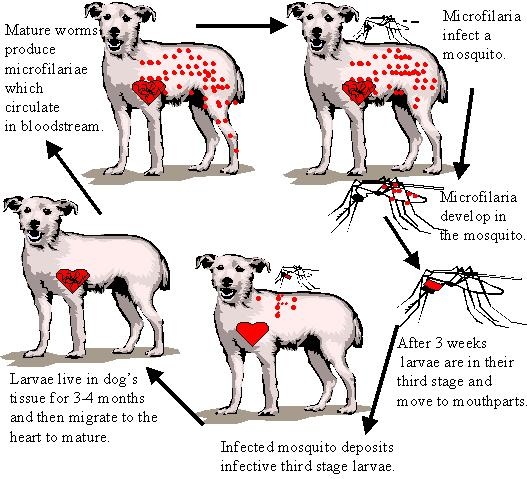 Symptoms and Detection
Symptoms are not usually apparent until the adult worms have damaged the heart and other organs as a result of reduced blood flow. Some of the symptoms include, weight loss, shortness of breath, weakness, chronic cough, chronic heart failure and death. Because symptoms take so long to appear it is important to get your pet tested regularly for dog heartworm. Dog heartworm can be detected through a blood test that looks for the microfilaria circulating in the blood. It can also be detected through an X-ray.
Treatment
The cure of dog heartworm can be an expensive and risky. The goal of treatment is to remove the adult heartworms, prevent reinfection and minimize complications. The dog is evaluated and the best course of treatment is determined. Often the dog must rest for several weeks to allow the worms to be absorbed into the body. If the dead worms break off during exercise they may cause respiratory failure and death. Since treatments can vary consult your veterinarian for further information consult your veterinarian.
Prevention
The best way to deal with dog heartworm is to prevent your dog from becoming infected. There are a variety of medications that your veterinarian can prescribe. They work by killing any immature heartworms circulating in the blood or on the surface skin. This prevents any adults from developing and damaging the heart. Since infected canines can have a reaction to the medication, the dog should be tested for dog heartworm before administering any of these pills. A veterinarian should conduct the tests.